Those unbelievable sisters Kari & Kijsa have a Fabulous Flag Flying Fourth going
!!! They have challenged us to put up our favorite flags. I am a little late getting in on this, as we have been sooo busy but I could not miss this great opportunity!!!
My husband spent all of 2005 over in Iraq. This huge flag, that we put up behind our piano, flew over his FOB while he was there. It is soooo beautiful. I wanted to bunch it and drape it over the piano, but in case you are like me and didn't know, there is
flag etiquette
and my hubby would stroke. I also have his American Soldier Freedom Defender flag, award, and pins on top of the piano.
This is an eagle that my dad painted and gave me last year. When he gave it to me, I thought, what in the world do you do with a giant painted eagle. However, being the daughter that I am I took it and made it work. It now resides in one of my flower beds. I don't think it looks too hideous, especially when everything is blooming. On the corner of the garage, is a little statue of an army man. We have drug him around to all of the many houses we have moved to. Last but not least, my youngest daughter added the flags to the whole ensemble. We have a ton of these little flags that we had when my husband came home from Iraq. We had them lining our driveway when he drove up.
Being as this is such a meaningful holiday for us, I would love to share a ton of historical facts. However, we have been painting, putting up pictures, cleaning out, and so on and so on for the last 3 days straight, and I am soooo tired. I will leave you with two amazing sites.
http://www.wallbuilders.com/
We will be ordering several resources from this company for our homeschool history this year.
http://www.heritage.org/
This is just a great site for
accurate
American History!!!
I hope you all have an amazing 4th and remember that Freedom is Not Free!!! Please, remember our troops!!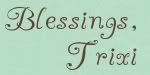 P.S. Please come back on Monday and see what we have been up to around here!!!